Underground Storage Tank (UST) Removal, Closure and Remediation
Due to the inherent risk of contaminant release to the subsurface of a property, underground storage tanks (USTs) and associated piping represent a significant environmental liability. For decades, underground USTs have been utilized to store petroleum-based fuels (gasoline, diesel fuel, kerosene, heating oil), hazardous liquids (solvents, etc.) and waste materials. Due to widespread use and propensity for leakage, USTs are considered a significant risk to tank owners/operators, as well as prospective property buyers that may be unaware of abandoned and undocumented USTs.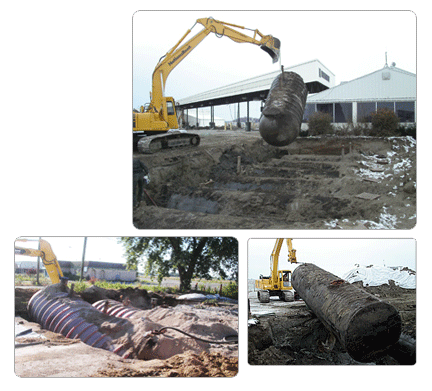 The installation, operation, closure and removal of USTs are regulated by federal law under 40 CFR Part 280-282. In Ohio, USTs are also regulated under Ohio Administrative Code (OAC) 1301:7-9-12, which is enforced by the Bureau of Underground Storage Tank Regulations (BUSTR), a division of the Ohio State Fire Marshall.
Allied's staff includes Ohio State Fire Marshal Certified UST Installers that have successfully completed numerous UST removal and remediation projects throughout Ohio. We can provide and coordinate all necessary permitting, excavation equipment, product removal and disposal, and environmental sampling. Our services also include preparation of all required reports and submittal to the regulatory agency.
In the event a release of product has occurred, additional assessment and remediation may be required. Allied's experienced staff of geologists and technicians assist clients in completing post-closure assessment (tier assessment), development of remedial action plans, and subsequent soil and/or groundwater remediation in pursuance of No Further Action (NFA) status.

Post-closure assessment typically includes:
Soil boring advancement and monitoring well installation
Soil sampling and analysis
Groundwater monitoring/sampling and analysis
Establishment of Site Specific Target Levels (SSTLs)
Groundwater modeling (flow and transport models)
Development of a Site Conceptual Exposure Model
Based on the data collected during the post-closure assessment, Allied can design an effective and cost-conscious remedial approach:
Natural attenuation / Monitoring only
Bioremediation
Free product recovery
Groundwater extraction and treatment
Soil excavation and disposal/treatment
Soil vapor extraction / Dual-phase extraction
Pursuance of Covenant-Not-To-Sue / Deed restrictions
Or combinations of remedial methods
Allied can also assist the client in pursuing reimbursement with the state Petroleum Underground Storage Tank Release Compensation Board (PUSTRCB).
Regulated removal and closure of UST systems can be a lengthy and costly process. Allied's experience and expertise can help reduce cost while ensuring a quick and effective resolution.
Helpful links: