Phase II - Soil & Groundwater Sampling and Remediation
Phase II Environmental Site Assessments (ESA) typically involve the collection and laboratory analysis of soil, surface water and/or groundwater samples to confirm the presence and extent of chemical contamination on a property. The scope of a Phase II ESA is often based on the findings of a Phase I ESA, or interim response to a spill/release of contaminants.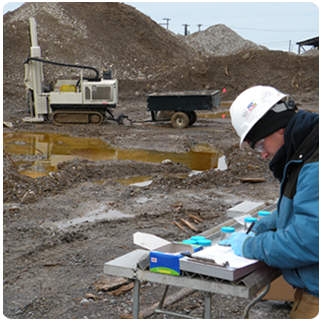 Allied's staff includes geologists and technicians experienced in multi-media sampling techniques, including subsurface investigation through soil boring advancement, monitoring well installation, and ground-penetrating radar survey.
Allied places great emphasis on presenting all analytical data, findings and recommendations in a technically sound, concise and easy to understand report format to ensure our clients fully understand the findings. We know that obtaining accurate and straightforward information regarding the environmental condition of a property is crucial for our clients to make incisive decisions regarding property assets.
Site Remediation
Allied can develop and implement a practical and effective remediation plan to eliminate/reduce contaminants to safe and acceptable levels.
- Mechanical removal/excavation & offsite disposal
- In-situ remediation systems
- Site restoration