About Us
Allied Environmental Services, Inc. (Allied) is an environmental consulting and contracting firm headquartered in Lima, Ohio. For more than 30 years, Allied has provided effective environmental management and industrial maintenance solutions to industry, municipalities, governmental bodies, lenders, schools, hospitals, and property owners.
Allied was founded in 1987 in response to the implementation of the U.S. Environmental Protection Agency's "Asbestos Hazard Emergency Response Act", or AHERA. During the late-1980s, Allied completed numerous AHERA asbestos inspections, developed management plans, completed asbestos abatement projects, and provided AHERA third-party oversight to school districts throughout Ohio. In 1991, Allied was awarded a long-term contract to provide asbestos assessment and abatement services to the BP Oil Refinery in Lima, Ohio. Even as the refinery changed ownership, from BP Oil to Clark Oil to Premcor Refiners Group to Valero, and finally to Husky Energy, Allied has maintained this contract by maintaining a reputation of quality and cost-effective service. Due to the large number of bulk asbestos samples routinely collected within the Lima Refinery, Allied added an analytical laboratory in 1994. The lab currently is certified/accredited to analyze asbestos content in bulk samples and air/personal samples; as well as microbial (mold) samples.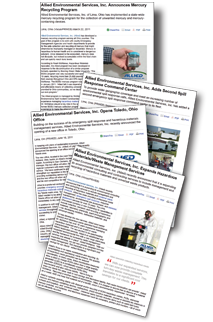 Allied continued to expand service offerings through the 1990s by adding a staff of qualified geologists, hygienists and technicians. Allied's capabilities grew to include Phase I and vPhase II Environmental Site Assessments, soil and groundwater sampling and remediation services, underground storage tank removal and closure, lead-based paint assessment and abatement, mold assessment, and industrial hygiene monitoring. To better assist our industrial manufacturing clients, Allied purchased A&A Liquid Waste in 2002. This acquisition allowed Allied to provide industrial cleaning, hazardous waste/solid waste collection and transport, and emergency spill response services. Allied currently maintains a fleet of vacuum trucks, tanker trailers, water blasters and power washers, cryogenic blasters, and spill response equipment. Additional services currently include confined space entry and rescue, and IDLH stand-by rescue.
Allied continues to grow and diversify. In 2014, Allied relocated its corporate headquarters to a larger and better equipped facility in Lima, Ohio. In 2016, Allied opened a satellite branch office in Buffalo, New York.
Our longevity and success are the result of the trust and confidence we have developed with our clients. Over 80% of our business is with repeat customers. By providing practical yet innovative solutions, coupled with the highest quality of work and ethical practices, we have built a reputation as an outstanding environmental consulting firm and services provider.